Big Issue Magazine
Issue 1253
24-30 April 2017
In this edition of The Big Issue:-
The Big Issue Music Special – plus 16-page Festival Guide
This week, multi-award winning global superstar John Legend fronts our music special. Legend talks the clarion call of politics, socks it to Donald Trump, and implores his fans to keep protesting.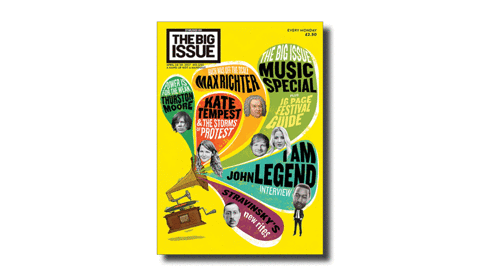 Also…
Novelist, poet and spoken-word artist Kate Tempest is enlisting an army of homeless poets to shine some light on the world around us. As guest director of this year's Brighton Festival, she is mobilising a Storytelling Army to take part in pop-up performances. She tells The Big Issue how the arts bring us closer to the truth about our lives.
Max Richter talks Bach, The Beatles and the transformative power of music.
In his Letter To My Younger Self, Thurston Moore reflects on losing his father as a teenager and the heady days of Sonic Youth. His one piece of advice to the young Thurston? "Call your mother every day."
Also, in our 16-page festival guide, dance pioneers Leftfield open up about their iconic debut LP; we speak with the ex-homeless woman who reinvented Green Man Festival; Rebus author Ian Rankin says he's a frustrated rock star at heart.
And, as always, much more…