Big Issue Magazine
Issue 1257
22-28 May 2017
In this edition of The Big Issue:-
Tiger woman: The incredible life of Judith Kerr
This week, our cover features one of the most iconic images in children's literature. Inside, read a Letter To My Younger Selfwith The Tiger who came to Tea creator Judith Kerr. The 93-year-old writer and illustrator has lived an incredible life; a Jewish refugee who lived through the Blitz and went on to create some of our best-loved stories.
We also interview Betty Boothroyd, the first female Speaker in the House of Commons, who casts her eye over the state we're in now. Another woman who has lived, it feels, several lives. Fascinating interviews.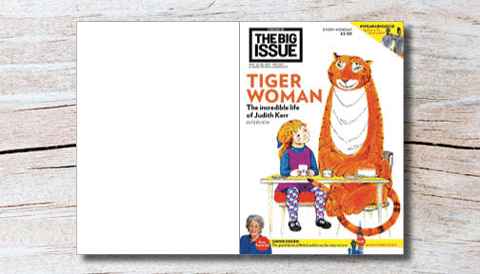 Also this week:
Let's talk about tax, baby! It used to be the third rail of British politics but suddenly it's okay to touch tax increases. When did we get so comfortable with handing over more of our money? Laura Kelly investigates.
A moody giant of American fiction, Richard Ford has spent 40 years chronicling the details of lives lived to tell the biggest of stories. Now he's introducing his parents. It is, he tells books editor Jane Graham, an act of love.
None of the party manifestos have all the answers to Britain's chronic housing problems. But communities know what is needed on their doorstep and, as Adam Forrest discovers, they're not afraid to get stuck in.
And, as always, much more…